Allrighty! As y'all know, I did my first Triathlon as part of a 2 person team this weekend.......only because I couldn't do the swim this time. First feedback: A Tri is TOUGH! I did the cycling and running part, and that was near enough to kill me.

Part I: Cycling.............

My Niece did the swim, so she made the 1K swim in 11 minutes and change, first transition was done in 1:45. Here is where I came in.
I took off on the cycling course. 13.82 miles, and I was riding against a 10-15 MPH headwind on rolling terrain. The course ran from Warsaw, Indiana to Pierceton, Indiana and back. The course was very well marked. I hammered as hard as I could against the wind, and generally uphill against a headwind. When I got to the turnaround point, my wonderful luck strikes. The blasted wind switched, and it was starting to look like storms were moving in. The wind switch no meant I was riding back, you guessed it, against a headwind......again! So much for the good thoughts of a tailwind!

So, I'm slogging back against the headwind, pushing through the wind like a wall. I got passed by a kid on a full suspension mountain bike....a Huffy, no less, with knobbies. This wasn't going to fly, I can tell you. I pushed hard and managed to pass this kid back. he was holding an 18 MPH average speed, and was really a strong rider.
I dropped down into the aerobars and just held on to the ride....and can guarantee you I went anaerobic on the return. 58 minutes on the cycling section, and a 4:45 transition to the run. I could have done better, I think, but still managed to hit a peak of 28 MPH coming back into Warsaw at the very end of the cycling leg. I got into the transition area and that last sprint had nearly done me in, and I still had the run segment to do.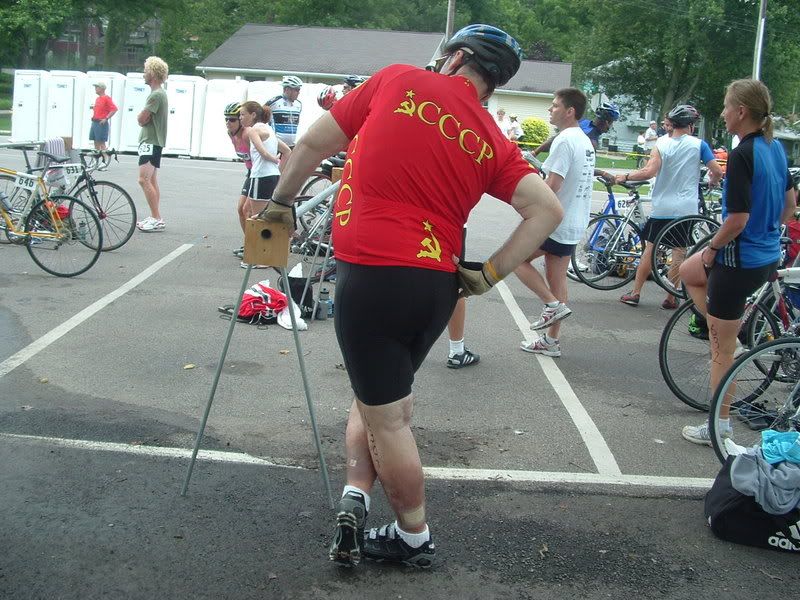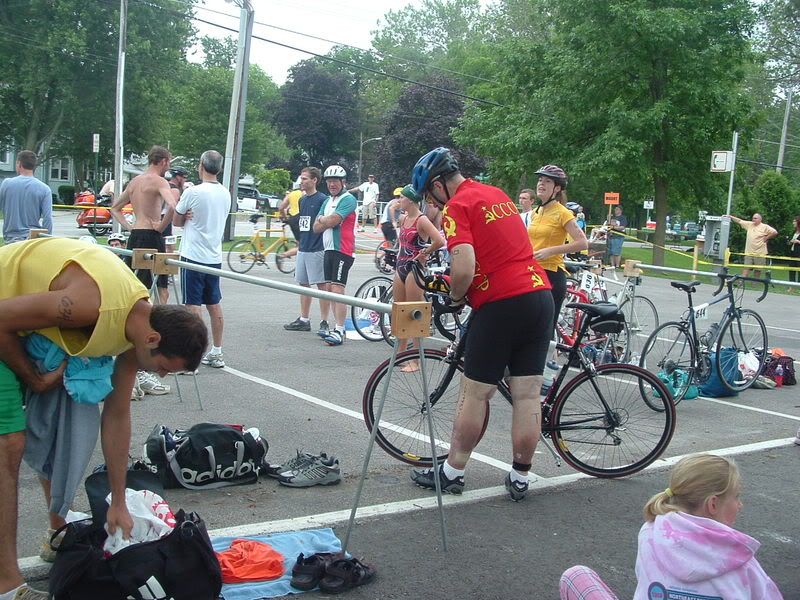 I did the 5 K in 1:08 and a few seconds, and I really am NOT a runner. I had to shuttle back and forth between a run and a walk. I did make the finish at a run, though. That's my Aunt running along beside me, encouraging me to keep pushing. That last quarter mile of the run was literally the worst hurting from exercise I've ever experienced. I made it across the line so bonked I couldn't even undo the ankle tag device and could barely stand. I was literally on the edge of falling, I was so spent. I was pretty cooked at the end, and I really have no idea where I got the push from for that final run, but where ever it came from, I love it! My finish was at the middle of the pack out of 50 teams, we placed at 25.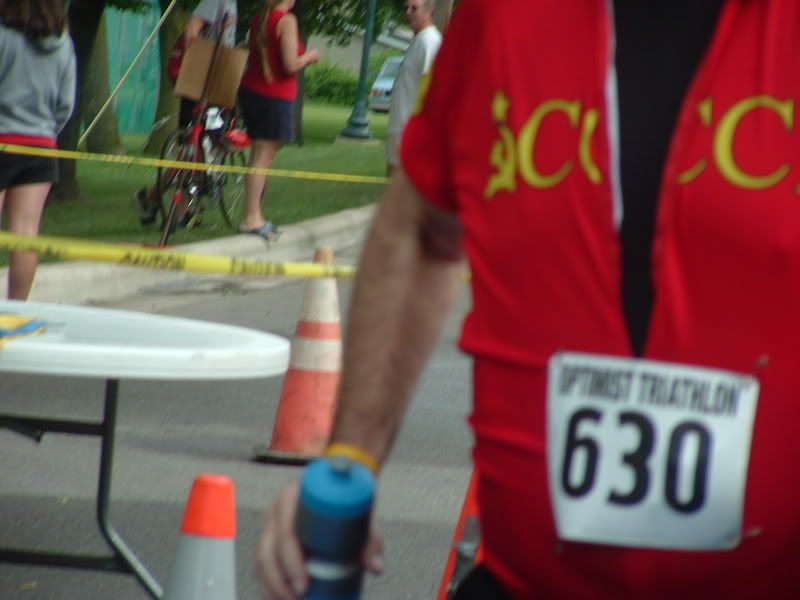 This was bar none, the toughest event I've ever done. I definitely have the triathlon bug......bad! Our time of 2:31.6 wasn't the fastest, by any means, but when you consider that 3 years ago, I was more or less in a wheelchair, you can get the scope of this in my mind.
I'm in the Tri game for the long haul....it's a blast! If you really want to challenge yourself, this is where you can do it.


I've also added a bit of video from the race. It's time compressed to make it a bit more interesting.
http://www.badongo.com/vid/777019